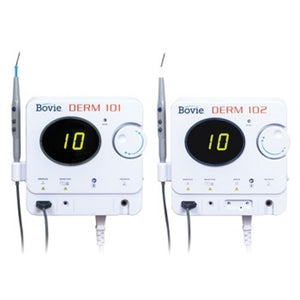 Bovie DERM 102 High Frequency Desiccator
Bovie DERM 102 High Frequency Desiccator
Product Description
4-year manufacturer warranty 
Bovie DERM 102 High Frequency Desiccator offers ten watts of MONOPOLAR and BIPOLAR modes of power, adjustable in 1/10th watt increments, to desiccate and fulgurate tissue. The power can be adjusted using the 3-Button Power Control Handpiece, A902 or using the rotary dial on the unit. The unit features a large, bright, LED display for excellent visibility across the procedure room. If foot control activation is preferred while using the Derm 102, just plug in the A803 Bovie Footswitch (sold separately) and activate. No separate handpiece is required. To utilize the BIPOLAR feature the A827V* bipolar cable, a bipolar forcep and footswitch activation are required.
The Bovie DERM 102 Frequency Desiccator are backed by the unmatched 4-year manufacturer warranty 
Medical license is required 
Bovie DERM 102 Features
POWER:10 watts of Power Adjustable in 1/10th Watt Increments.
DESICCATION AND FULGURATION:
BI-POLAR MODE:DERM 102 ONLY (requires optional A827V bipolar cable, A803 Footswitch and choice of bipolar forceps).
UNIVERSAL POWER with 100-240 VAC:

 

the DERM 102 are Global Options.
INCLUDES:Bovie DERM 102 Generator, A902 Autoclavable 3 Button Handpiece (1), Assortment of Disposable Tips (18), Disposable Handpiece Sheaths (2), Wall Mount Kit (1), 110 VAC Hospital Grade Power Cord (1) and User CD Guide.
Bovie DERM 102 Specifications
Please see brochure below for specifications.
---
We Also Recommend
---